ABOUT MOTOMACHI
Brand Statment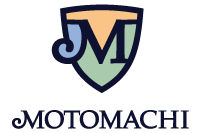 As part of our focus on community development, we have introduced a new brand identity (community identity) for Motomachi Shopping Street. We've adopted the "challenge M" motto from the shield that is the Motomachi symbol to represent our bold spirit. We are committed to taking up the challenges involved in creating a new, innovative story based on our authentic spirit.
Throughout its history, Motomachi Shopping Street has endorsed a brand mission devoted to the authentic goods and hospitable service that only Yokohama Motomachi can provide.
Brand Concept
Changing Stories with Authentic Spirit
Brand Mission
We will establish shops that deliver originality and authenticity.

We will listen closely to customer feedback and work to build close ties of trust.

We will deliver high-quality Yamanote style and create a Motomachi fan base.
The Charter of Town Management
Community planning that embraces the area's history and culture

Community planning that is cultivated and dignified

Community planning that anticipates and prepares for the future
Motomachi
- The Green Shopping Street

■Motomachi is the first independent shopping street in Japan to implement a shared delivery and shipping system as part of its efforts to be an environmentally friendly green shopping street.
The Motomachi area, which includes Motomachi Shopping Street, introduced field tests of its shared delivery system on June 1, 2004 in collaboration with various shipping companies and the relevant government offices (Traffic Regulation Division, Kanagawa Prefectural Police Headquarters; Kagacho Police Station; Yokohama City Environmental Preservation Office; Yokohama City Naka Ward Office of Engineering). This initiative was formulated to significantly decrease the number of delivery trucks driving the streets in order to address exhaust, noise and other environmental issues, as well as to prevent traffic accidents by reducing incidents of illegal parking and providing pedestrians with plenty of walking space. Shared deliveries organized by an independent shopping street are extremely rare if not unprecedented in Japan.
The system revolves around a shared delivery collection center established just outside the Motomachi area. Packages shipped to the Motomachi area using a number of different independent shipping companies are delivered first to the shared delivery center, where they are sorted and loaded onto shared delivery trucks (environmentally friendly trucks bearing the Motomachi logo) to be delivered to neighborhoods within the community. The reverse is also true. Packages shipped from the Motomachi area are first delivered by these Motomachi trucks to the shared delivery center, where they are redistributed to the relevant shipping companies to be delivered to their destinations. The system is designed to significantly reduce the number of large-capacity trucks driving in the Motomachi area and contribute effectively to environmental solutions and traffic congestion.
The environmentally friendly Motomachi delivery trucks are loaded and unloaded at a dedicated parking space (the Eco Cargo Station) along the Horikawa River. This procedure helps to ensure traffic safety for delivery trucks throughout the entire Motomachi area. Motomachi is committed to continuing efforts for community planning that is both environmentally and people friendly.
■Shipping Companies Involved with Motomachi Shared Delivery System
* Current as of November 10, 2005 (in no particular order)
Fujiki Kogyo Co., Ltd. / Nippon Express Co., Ltd. / Seino Super Express Co., Ltd. / Kurume Transportation Co., Ltd. / Oji Transportation Co., Ltd. / Toll Express Japan Co., Ltd. / Chuo Sogo Service Co., Ltd. / Sagawa Express Co., Ltd. / TONAMI Transportation Co., Ltd. / Niigata Unyu Co., Ltd. / Meitetsu Unyu Co., Ltd. / S-Line Gifu Co., Ltd. / Logitec Co., Ltd. / Wakaba Unyu Co., Ltd. / Seino Transportation Co., Ltd. / Fukuyama Transporting Co., Ltd. / Daiichi Freight System, Inc. / Kanto Sokuhan Kanagawa / Yamato Transport Co., Ltd. / Plus Logistics Corporation
Motomachi Community Planning
- Official Rulebook
The Charter of Town Management

Motomachi's proud history of upholding its own traditions, while at the same time absorbing many other cultures, began with the opening of the Port of Yokohama. Recognizing the importance and value of this extraordinary environment, we are working on a new type of community planning that focuses on the balanced coexistence of residential and commercial interests. We are dedicated to developing a captivating community that is safe and comfortable for local residents, as well as inspiring and pleasant for those who visit.
Basic Community Planning Philosophy
1.Community planning that embraces the area's history and culture

We will continue to preserve and nurture the history and culture of Motomachi, which has been shaped by the passion and hard work of our forerunners, and will work to create a community that embraces and builds upon these precious assets.

2.Community planning that is tasteful and dignified

As members of the community, we take pride in and responsibility for living, doing business, and working in Motomachi, respecting the rules and manners of the community as we do so. We strive to build a dignified community that respects both the individual and the harmony of the whole.

3.Community planning that anticipates and prepares for the future

We work to build a community that future generations can inherit and build upon, respecting the area's traditions, while remaining open to new ideas that will spur further Motomachi growth and development.
■Community Planning Agreement
■Download registration forms
■Motomachi Community Planning Council Contact:
Inquiries regarding the Motomachi Community Planning Agreement:
【Motomachi Self-Government Administration Society】
Address: 5-208, Motomachi, Naka-ku
TEL +81-45-681-8087
FAX +81-45-681-8091
Inquiries regarding the Motomachi-dori Street Planning Agreement:
【Motomachi Shopping Street Association】
Address: Motomachi 1-14, Naka-ku
TEL +81-45-641-1557
FAX +81-45-664-947
Inquiries regarding the Motomachi Nakadori Street Area Planning Agreement:
【Motomachi Craftsmanship Street,Shopping District Promotion Association】
Address: HS Building 204, 5-208, Motomachi,Naka-ku
TEL +81-45-663-1413
FAX +81-45-663-1416